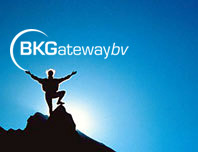 Welcome to BKGateway

You wish to tune your business processes to electronic business. You wish to communicate in a safe, fast and easy way with your business partners without making use of fax, telephone or archaic EDI concepts. However, you do not want to mess up your whole automation structure, not to mention to replace all existing (and operating!) applications. You are not alone in this matter. That's why BKGateway has chosen for an approach where functionality comes first. Universal and flexible, able to communicate with almost all important existing kits.

BKGateway takes care that you can do e-business in an efficient manner. Without worries and with preservation of your existing structures.